AUDIO SONG: Erik Berglund – Herald Of The New Dawn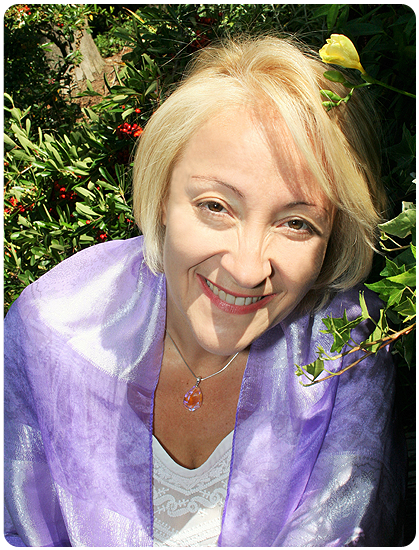 Angel Light
I am a fourth generation intuitive and a healer. My mother, my twin grandmothers and my great grandmother were herbalists, healers and intuitives. People from the whole village came to seek their help and advice. I grew up with their stories about divine light beings, herbs and nature remedies; tales about God, Angels, Spirits and Guides. I was four years old when saw for a first time Archangel Michael. At that time I was terrified by the dark, afraid to fall asleep alone. One night I woke up because of the bright light in my room. I opened my eyes and right there, siting on my bed, I saw a large white being. He smiled at me and said: "My name is Michael. I am an Angel and God sent me to protect you so you don't afraid of the dark anymore. I will always be with you, you will never be alone." I slept like a baby that night and always remember the powerful angel who is with me day and night. Knowing, feeling, seeing and hearing the Angels is something normal for me, part of my everyday life. For years I thought that everybody sees and hears them, feels their loving support. Since an early age I've known that I have a special mission, that I need to focus on service and that one day I will share my knowledge with many others. Thanks to the daily practice of Kundalini yoga, meditation and prayer I feel every day as a new day. I wake up with the intention to do the best I can and I go to sleep with the happy heart that I did my very best.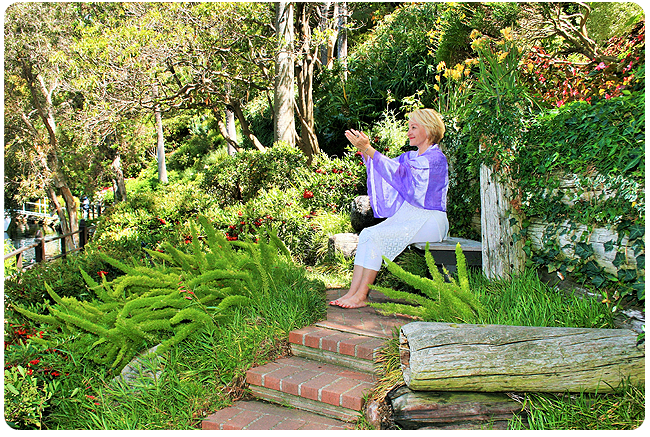 I am claircognizent, clairvoyant, clairsentient, and clairaudient. I work closely with Archangels Michael, Raphael, Metratron, Gabriel, Jophiel, Raziel, Raguel, Ariel, Azrael, Sandalphon, Jesus, Yogi Bhajan, Guru Ram Das, Mother Mary, Quan Yin, Isis and Pele. Atlantis and Lemuria, Sound Healing and Crystals are among my passions. I enjoy very much playing my Angelic harp, invoking the healing angels to help you open your heart and heal on a deep cellular level. Reading people's energy is very easy for me. I admire honest and genuine people. May be that's why one of the key points in my life was when I met my teacher Dr. Doreen Virtue. A true Angel on Earth, this extraordinary woman is real inspiration for me. It's hard to find a spiritual teacher that is so humble, happy, compassionate, knowledgeable and giving. My training to become an Angel Therapist (ATP) in Kona, Hawaii, was a magical experience. The techniques I learned from Doreen healed me after a devastating car accident and a misdiagnosis with breast cancer, the angels also helped me realize that I need to use my gifts to heal others.
Who are the Angels?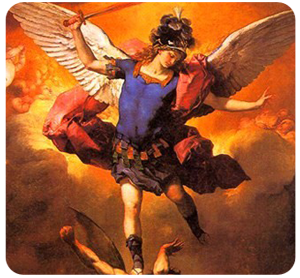 "The word Angel means "messenger." Angels bring messages from the Divine Mind of our Creator. They're gifts to us from God, sent to help us remember our Divine nature, to be loving and kind, to discover and polish our talents for the betterment of the world, and to keep us out of harm's way before our time. They also guide us in the areas of relationships, health, career, and even finances.
Your angels are with you and help lead you to God's plan of harmony. They help calm you, because one person at a time leads to a world of peaceful people, which equates to a world of peace. That's way your angels desire to assist you in any way that will lead you to serenity. You aren't bothering them or wasting their time if you ask "small" favors. They know that minor irritants often add up to major stress, so it's their great pleasure to help you with anything that stands in your way.
Now while it's true that challenges do make us grow, the angels also say that peace leads to even bigger growth spurts. Through tranquility, our schedules and creativity are more open to giving service,and our bodies operate in a healthy fashion. Our relationships thrive and blossom, and we're shining examples of God's love." (from Doreen Virtue's book "How to Hear your Angels", published by Hay House, Inc.)
About Angels and Religion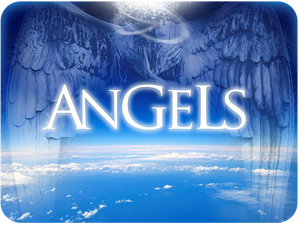 "Although all religions speak of angels, they don't belong to any religion or sect! Angels are truly nondenominational. Angels work with any religious or spiritual path, so you don't need to change your views or beliefs to work with angels. You never have to worry that the angels would ever ask you to do anything that would make you feel afraid. In addition, you needn't worry about being "tricked" by a lower spirit, as the angels' characteristics of love and light can't be faked, since they're gifts that come directly from God. Angels are messengers of God, they carry messages of divine love and light from the Creator to the creator, like Heavenly postal carriers. They are not judgmental, they love everyone unconditionally. They past the surface and see the godliness within us all. They focus on our Divinity and potential, and not on our "faults". The angels' love for us is pure. They help us hear, touch, see, and understand God in our everyday lives. So whether you need help with your health, career, love life, family, or any other area, the angels can help you. There's nothing too small or big for them to handle. They joyfully work on your behalf the moment you ask. I also have found that those who work with angels develop a closer relationship with God, as these individuals heal fears and guilt that they may have absorbed from religious teachings." (from Dr. Doreen Virtue's book "Archangels and Ascended Masters", published by Hay House, Inc.)
Testimonials about Nelly's Angel readings
"Nelly, When I came to you for my angel reading, you had told me my daughter was going to book a role with Robert DeNiro. And she did! She is filming in July. It's called "The Intern". I'm soooooo happy for her. It's amazing that you were so accurate…I really enjoyed your session. I appreciate your time, energy and knowledge. I'll keep you posted on everything. Thanks a million! Much Love."M.S
"Dear Nelly,
How're you? I'm already missing your smiles and positive energy! The workshops you did with us during the Asia Yoga Conference in Hong Kong were amazing. I never used to believe in energy work until very recently, and it was at your past lives session that I felt my third eye for the very first time in my life. I'm so grateful for all these experiences which opened my mind. Please, please come back soon to Hong Kong! Lots of love your way! " S.L
"Dear Nelly,
I wanted to thank you for the amazing healing and the incredible classes. You are such a bright light for so many people and I look forward to continuing our journey together. Let me know if I can help with any future events and I am happy to have you visit in Hong Kong any time. I may even be able to arrange accommodations depending on when you visit."D.D
"Dear Nelly,
"During one of her workshops at the Asia Yoga Conference (about Aura Healing with the Angels), Nelly led the group in a guided meditation. At the beginning, she asked us all to close our eyes. Suddenly, I could smell a beautiful floral aroma in the room – I thought Nelly had sprayed some scent. After the guided meditation, two women sitting near me commented that they too had smelled the floral aroma, so we asked Nelly about it. She said that no, she hadn't sprayed anything in the room, and she explained that the floral aroma meant angels had come into the room. Nice!" K.R
"My family and I are so glad to meet Nelly at Asia Yoga Conference 2014 in Hong Kong. During the lectures, I not only learned about different angels, angel cards, but also some wonderful Kundalini yoga. I had lots of fun (even dancing on the stage)!! Until now, I can't believe I experienced angel lights and flower scents from angels. My intuition has become stronger. Most of all, I gain more confidence in all aspects. It's a fantastic and unforgettable experiences. I am very looking forward to seeing Nelly again in the near future. Don't miss out! It's a must try. Wish you all joy and free." K.S.
 "I love having angel readings and healing sessions with Nelly! I always leave feeling loved, inspired, re-energised and encouraged." K.R.
 Dear Nelly,
First, I have really enjoyed the first three classes and look forward to the last. I thank you for your open and joyful spirit you bring everyday. Your joy for your work emanates from every part of you and it makes it so exciting to be around. "A.R
Dear Nelly,I want to say thank you very much. I was so lucky to join your workshop.
It haven't joined asia yoga conference before and never thought of joining it. I just searched about mantra chanting on internet and occasionally discovered AYC website and curiously clicked into it. Then discovered there would be angel workshops offered by you. I was very surprised and my heart was beating super fast, because I have been hoping to learn angel healing course for a long time and I have been waiting for a chance.

So I felt I am guided to discover your workshop. I felt very happy and grateful. I am very touched by your sincere openness to all students to share what you know and talking with us. Your emails touched me very much because you are so kind to share all your music, notes, book recommendations and sharing your contacts with us to keep in touch. I feel it is very rare and very little teachers will do it. You are bringing so much love to all your students. Thank you very much for your kindness and love!

Thank you for giving me Japanese Angel cards. It is a wonderful present to me. I learnt Japanese nearly 20 years ago and I love Japanese very much. I will practice the angel card daily.

I really want to express gratitude to you. I remember when you taught us the four hand movements in the aura workshop. When you played the Evenstar music, I could not stop crying while I was doing the movements. I don't know why I felt familiar and sad. So I just did the movements with many tears and runny nose. The music is very healing. Thank you very much.

Besides, it was my first time to dance. Recently I love listening Indian mantras and don't know why always feeling want to dance while listening mantras. But I have never danced even once before. So I felt very happy and contented I could dance with you and other friends on stage. It was a very wonderful experience.

After the past life workshop on Sunday, I felt too disappointed to myself and felt frustrated that I could not able to do all the things. I sat on the sofa in the open area outside the hall, listening to the music Evenstar and praying. After praying, I saw a big word "OFF" showing in my mind. Then I saw a sentence showing in the Evenstar youtube "This was my choice". I quickly had a feeling that it was my choice to turn off my ability in the past. I am not sure if I interpreted it right. It made me remembering I had a dream several months ago. In the dream, I saw "a cluster of light" appeared in front of me. My eye closed. "The light" started to use its finger to write something on my forehead. Then I heard a male voice in Japanese : It will be sealed continuously. Then I woke up but did not felt scary.

I always see many lovely signs in daily life. And sometimes I have dreams of angels unicorns pegasus Kwan Yin these several years. So I know they are always be with me and supporting me.

I hope I can join your workshops in the future again. If you come next year, I surely will join it. You become an important teacher in my life. I learnt a lot (although cannot able to do successfully yet). I am much honored to know you and be in the group these days.

I know that you are very busy and many students writing to you. So I am already very happy and contented that you read my email. The Star Avenue is a very good place. I am sure you enjoyed there and the days in Hong Kong very much. Thank you giving so much love to us. I also send my love and gratitude to you. "♥ Smile, M M
Good morning Nelly,
Thank you very much for your class yesterday and the information and music you sent out for us! Thank you, thank you very much for the experience in class. I was so happy Archangel Michael stayed all the way and guided our class yesterday. Archangel Michael is the Archangel I call upon for guidance the most. I constantly feel him around me and I have been working on my awareness to see/hear the images he sent for me clearly."F.C
Hi Nelly,
It is a great pleasure taking your class this afternoon, it helped me connect to something deeper inside me, very powerful! Thank you for coming to Hong Kong, please come again, Hong Kong needs you!" B.T.
Dear Nelly,
I am so happy that could attend your workshops these days. You are a wonderful teacher with kindness and sincere open heart to students. Thank u for the photos I saw on your page. " V.
Hi dear Nelly,
I just want to say thank you for your workshop yesterday! I love it and I love your energy. Thank you thank you! 🙂 Hope you enjoy Hong Kong and will come back soon!! We are sure the Angels will bring you back, we need you. Love you! Love the dance too." S.C
Dearest Nelly,
It's so delightful to hear from you because I was just thinking about you. I'm uploading your Dolphin CD onto my iMac now that I'm back in Shanghai and you were floating around in my head and then your email came through. Awesome!
Your angel reading has really helped me a lot and is continuing to do so as each and every moment unfolds. It's like a renewal of sorts is taking place which I'm finding rather intriguing. You've also sparked my interest in Kundalini Yoga and I plan to go to my first class here tomorrow. Exciting:)
I just wanted to say that you have a special place in my heart and I look forward to the next time that our paths cross again. Words cannot explain how you've helped me! Thank U dear sister of the angels!" LS
Thank you so much, Nelly.
As I stepped out of your hotel, an eagle was flying and circling in front to greet me… wondering if it's the sign of angle greeting me 🙂 Feeling the tingling sensations throughout my body from your powerful healing.
Thank you again for your kindness and love extended to me. I will never forget from my heart and soul. Take care and hope to see you again soon. Have a safe flight back home." ML
Hi Nelly,
Thanks for the lovely spiritual guidance in Hong Kong these past days. Although I fell asleep yesterday at the past life regression, I enjoyed the sharing and dances really much."E.L
"I have had many readings by numerous individuals and Nelly is truly AMAZING!!! She is extremely accurate and tuned in and communicates quickly and efficiently. I called for a specific reason, but Nelly gave me so much more! I am very grateful I chose to try her and highly recommend her! Many blessings!" V
"Nelly, YOU are AMAZING and I am so honored to have had a reading with you today. I will spread the word for sure… actually, I already told a few people. I have been wanting to call forever and I wrote to Mark to tell him how amazing you are. THANK YOU TO THE MOON AND BACK!!! You are a real angel, and I needed to hear every word! I am off to work, and you have a spectacular and deeply spiritual journey! I trust you with my energy completely!!!!I am a FAN FOR LIFE!!!! LOVE and ADMIRATION," K
"What an angel – so sweet and joyful! Her insight is exact. She keyed in on my exact heart's desires within minutes of our conversation, offering powerful suggestions on how to move forward in the most positive way. She gave me a solid vision of where my life is heading, and I have to say- I really like it!" J
"Dear Nelly, thank you for your wonderful insight and messages from the lovely angels. I appreciate you reminding me that all is good and that I am in the driver's seat of my life and to trust that all is going perfectly in my life. It was truly a pleasure speaking with you. Thank you again. Blessings." L
"Thank you so much for your clear and direct help, Nelly! Not only you are right to the point (both in explaining the situation and what to do), you are a delight to work with. Thank you so much!" K
"WOW All the readers at www.12angel.com have different gifts and Nelly is right there at the top with many more I have come a long way with all their help and teaching. Thank you."C
Thank you for your advice, vision and free minutes. I am extremely excited to move into self employment.  It truly is my biggest heart's desire….  for sure. Thanks for helping me see the bigger picture of where I am heading. So much love to you!" J
"Hello Nelly, Thank you so much for the incredible reading and very detailed information. You are amazing!" L
"Wow Again and Again the readings are wonderful. Nelly told me money would be coming in the near future but something extra right away. $3200.00 came to me from $500 in 8 hours. Thank you and God for the blessings." V
"Wonderful! If you want to connect to a passed loved one call Nelly. She was able to connect to things I only knew about a loved one on the other side. Nelly has great ability to connect to the angels."A
"Nelly is amazing!
She has an awesome ability to connect to your angels and the information she receives is so accurate!  She has such a warm personality and I will definitely be calling again."Z
"Truly gifted, thorough… downright amazing. Thank you, Nelly!" D
"Nelly was wonderful and picked up on my situations right away. The messages she received from the Angels also had great meaning and were so accurate. She is a very gifted Advisor and so warm and compassionate to speak with. Many thanks and blessings!" M
"Nelly is absolutely amazing! Her ability is so refined, I'm still in shock! And the level of detail that was given was perfect. I would recommend this reader 1,000 times over again. Thank you! Thank you!"K
"WOW!!! One of the BEST!!! Amazing her ability to connect. I can not say how incredible was in words. Thank you so much." V
"Wow-talk about on target! Nelly is clearly tuned in to the angelic realm picking up on my writing projects – who is around and why and how to help. She is as lovely and fun to speak with as she is detailed and full of messages!"K
"Nelly was wonderful to speak with! Thank you very much! She picked up on my situations right away and helped me a lot. Thanks again!" S
"You are so tuned into the Universe. Thank you for the dedication to share your gifts!"E
"I called for a career advice and she gave me so much more information. Definitely feel comforted by the messages she got from my angels."R
"Hello Nelly, Thank you so much for the incredible reading today! You get so much information so fast, it's unreal… I could go on talking to you for much longer, wow… I have a lot to think about and absorb. Even though others have told me about my possible destiny, it has not really sunken in. You helped me to feel that it is all for real… My head is still spinning! Thank you so much again! Wishing you many many blessings." L
"I would like to thank you for yesterday's reading. You really tuned in to some amazing stuff. I am glad to have found you. It was great you heard from my teacher on the other side. She was a wonderful healer, teacher and friend when she was in physical form. I know she is helping me now. You have a nice combination of gifts and it was a pleasure to have had a reading with you." V
"Thank you, Nelly for the wonderful reading this afternoon. I appreciate that you are able to connect quickly to the matters on my heart.Thank you for the guidance you received for me from the Divine. You are a beautiful person Nelly with a gentle and caring soul.